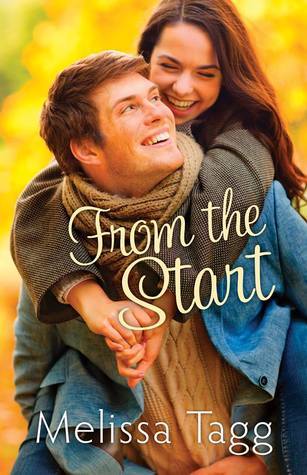 From the Start is book one in Melissa Tagg's new Walker Family series. In this book we are introduced to Kate Walker and here Iowa family as they deal with the aftermath of a tornado in their home of Maple Valley. Also in this story is Colton Greene, a newly retired NFL quarterback who is trying to figure out what to do now that his career is over. He enlists Kate to write his biography, but he struggles to reveal anything about himself. This makes it kind of hard to write the book. Kate has to deal with this and a broken heart from a past relationship, making it difficult to trust again.
This is the first book I have read by Melissa Tagg, and I really enjoyed it. I loved the small town, rural setting. I thought the characters were well developed and interesting. The main characters had good chemistry. I am also interested to find out about the other members of her family, and see where their stories lead. The story was well paced and moved along nicely. I loved to see where things were going. It was never predictable, which I appreciated. I am looking forward to the next book in the series.
I would recommend this book to fans of contemporary romance and family series.

I received this book for free from Bethany House for the purpose of review.